The Koriyama Ryokan & Hotels Association consists of Ryokan (inn),

Ryokan with Onsen (hot spring), and hotels, each with individual characters different from each other.

Please find your favorite Ryokan or hotel.
Information of Koriyama City
Koriyama City is located in the center of Fukushima Prefecture.
The city is easily accessible from the Tokyo Metropolitan area, and conveniently situated for business purposes or making trips to the main sightseeing spots in the prefecture.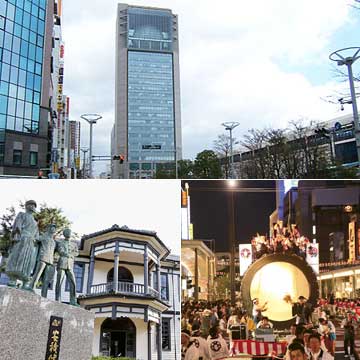 Climate
The climate here is comparatively dry and winds blow gently year-round.
Koriyama City is a comfortable place to live.
History
Koriyama used to be barren and was a town for travelers with a population of merely 5,000 until the end of the Edo period (1603-1868).
Koriyama, having the inconvenience of water at that time, made the first step toward prosperity by undertaking the Asaka Canal Project (1879).
The reclamation of the Asaka Plains required 850,000 man-days and took three years to complete. It is said that as many as 2,000 workers from across the nation gathered in Koriyama, a small town with a population of only 5,000!!
Now Koriyama has developed into a city with a population of about 340,000, and become one of the leading cities in the Tohoku District.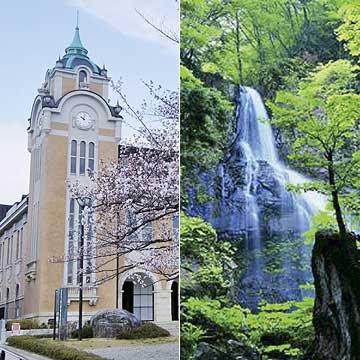 Hot springs
There are many places where natural hot spring water gushes out in the city. You can enjoy taking a refreshing hot spring bath nearby.
Declaration of the Music City
As the population of Koriyama increased rapidly right after the war, the city struggled against many difficulties like never before, at the same time the public safety situation deteriorated. On the other hand, a lot of people participated in various activities such as art, drama, and music, which served as a guide and inspiration for the people of Koriyama. Now, Koriyama City has a reputation of having some of the best choruses in all of Japan.
Ryokan and hotels that accept foreigners
| Accommodation of Member Association | Telephone number |
| --- | --- |
| Abukuma Ryokan | (+81)-24-944-4958 |
| Uneme Ryokan | (+81)-24-932-1389 |
| Kimiyoshi Ryokan | (+81)-24-933-9335 |
| Ryokan Genpei | (+81)-24-922-2496 |
| Mizuho Ryokan | (+81)-24-922-4960 |
| Michinokusou | (+81)-24-958-2538 |